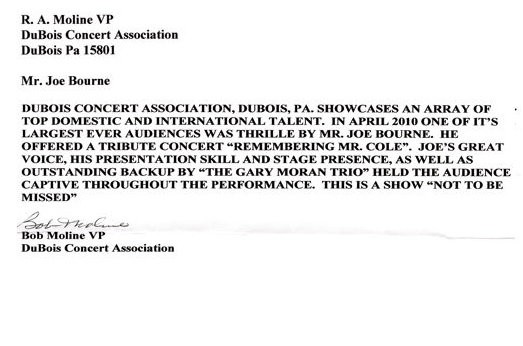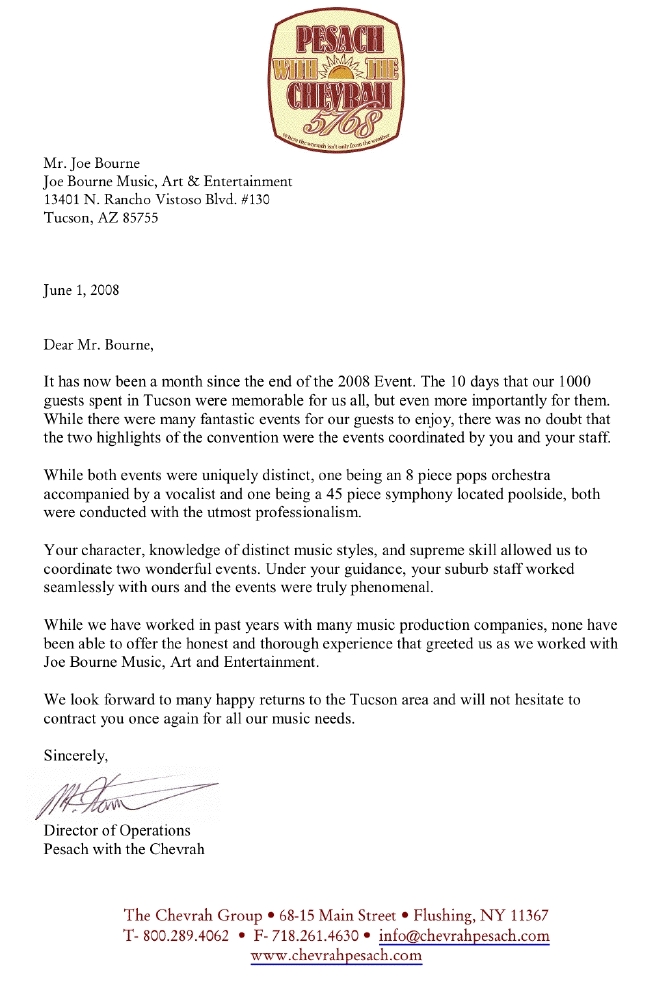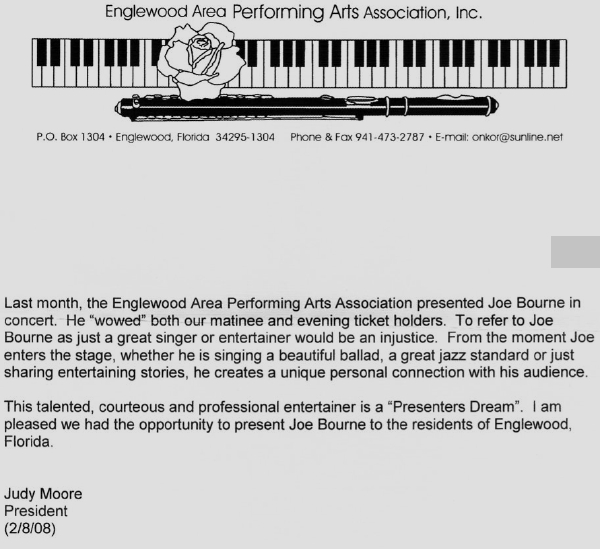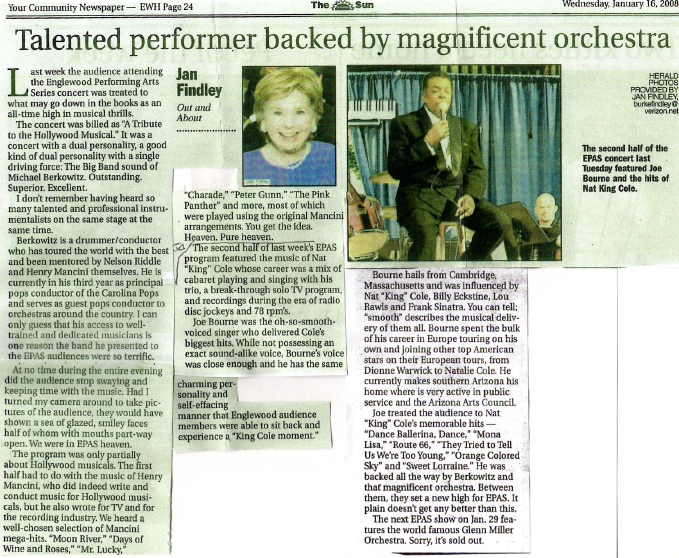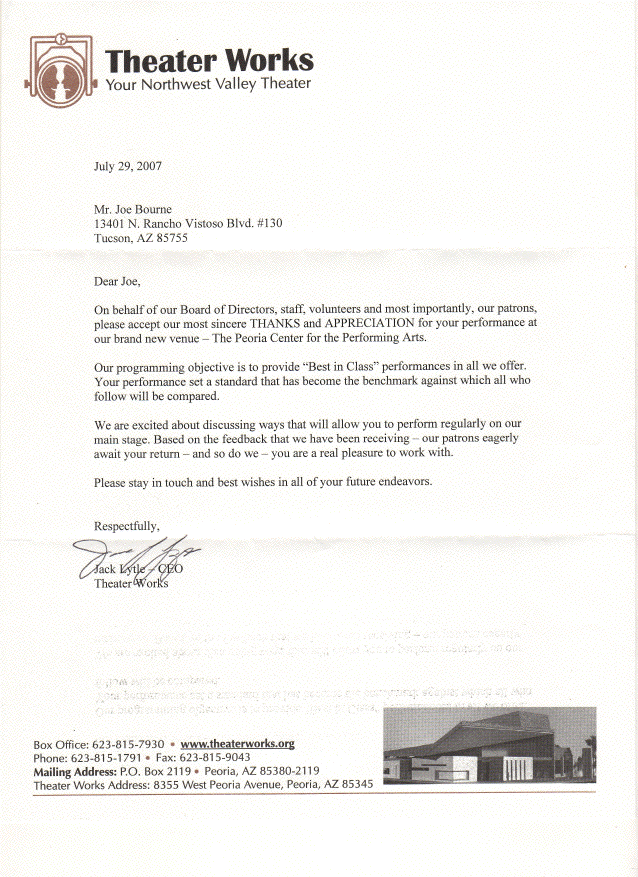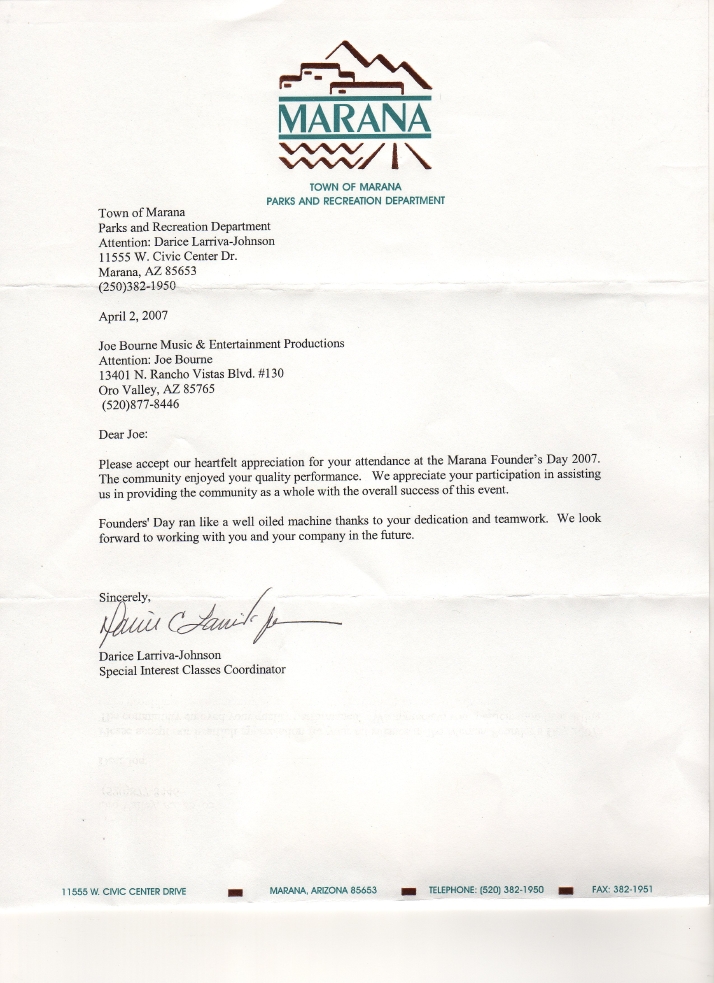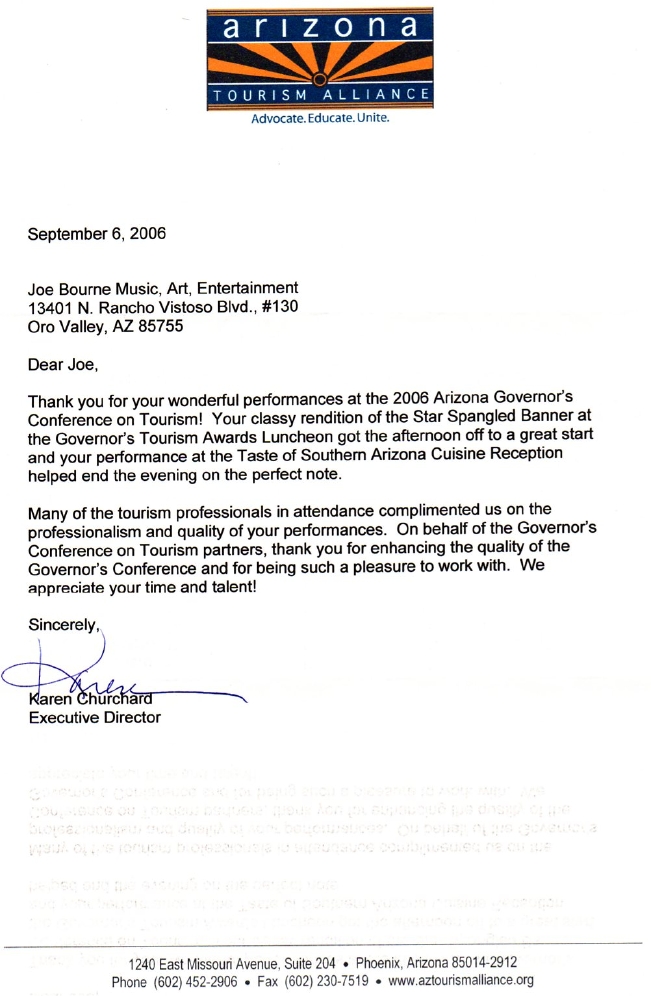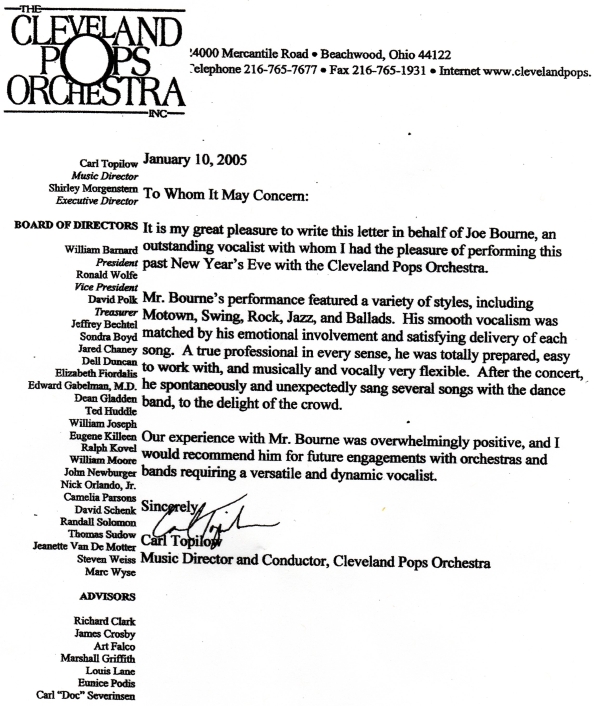 Susan Claassen,Managing Artistic Director,Invisible Theatre writes


"Dear Joe: I want to thank you for an absolutely incredible show. BOOGIE WOOGIE BLUES exceed all expectations and you know I have high ones! You and Arthur made a dynamic duo. Your artistry is to be applauded. You have magnificent musical taste and you are an incomparable showman. The selection of tunes and the variety of musical styles provided an unforgettable evening! Thank you again for everything. It is a privilege to work with you. I look forward to many more collaborations. Best, Suz
Don Gest, Program Supervisor, Greater Oro Valley Arts Council writes in June 1, 2004


"Thank you very much for the enjoyable performance at our Riverfront Park series on May 16. We appreciated you professional manner both off stage in setting up and on stage as well.
" All songs were well performed and we had many positive comments on your music from audience members. The guitarist who performed with you was excellent, as well as the vocalist you brought out on stage towards the end. An audience of approximately 700 of all ages enjoyed the performance."
Laszlo Veres, Music Director/Conductor, Tucson Pops writes in his email of May 11, 2003


"Great Job tonight! The audience loved you- it was fun working with you. Thank you for your performance with the Pops. You are a showman and pro!"
Tonio Kroger, Cruise Director, MS Europa writes January 1, 2004.


"We are pleased to have Mr. Joe Bourne as entertainer, and we look forward to his next engagement. Mr. Bourne performed three shows in our main lounge, The Europa Lounge, in which he sang a variety of songs in German and English. The audience was captivated by his talent and stage presents!"
Susan Scerbo & kim Gunn organizers of the Friends of The Arizona Cancer Center & Celebrate Art 2002 writes:


"We wish to thank you for your assistance in helping make this event a successful evening to benefit research at the Arizona Cancer Center."
The Board Foundation African Doctors Gala, The Netherlands writes in June 19, 2003.


"Through this letter we would like to take the opportunity to thank you for your wonderful performance during the African Doctors Gala which was held on the 14th of June 2002 in Grand Hotel Huis ter Duin. We have received numerous very enthusiastic responses. With your help we have been able to offer our guests a spectacular Gala evening and brunch the next morning. Also the board of the Foundation African Doctors gala was very honored with your generous offer to donate one of your paintings to the auction which was held during the gala. The painting was sold for 2000.00 Euros and the buyer was very proud to have won the bid on your painting.
"With your help we have been able to raise a beautiful amount, 400.000.00 Euros for the AMREF Flying Doctors International in Kenya. With this money AMRED Flying Doctors supports her projects for structural improvement of the sanitation in Africa.
"Thank you again and wishing you success in the future."
Lisa Benwitz a random listener writes in December 2002.


"I should say I'm not in the music business in any way, but I feel qualified to "judge" based on my life long love of and appreciation for all kinds of music.
"For what it may be worth, I wanted to tell you that your rendition of"Send In the Clowns" brought tears to my eyes. It was beautifully sung, played and arranged. You are a spectacular talent, and I wish you all the best in this contest, your career and life."
Bruce Weigold, Principal Painted Sky Elementary


"What a tribute to Dr King! Painted Sky Elementary would not have been able to deliver a tribute of this magnitude without your efforts. It is with our deep appreciation that we "Thank you" for your performance. Our students departed the assembly knowing more about Dr. King's dream and a vision where all people can be tre ated fairly. Our teachers and staff also enjoyed the program. We look forward to future celebrations that will continue to enhance and inspire our students.
"Thank you for your community support."
Lon Monasch Director of Cristofori, Amsterdam writes:


"Just a short note to thank you for your superb performance during our Vocal Jazz series with trio Rene van Beeck here at the Cristofori in Amsterdam on Sunday evening Feb.25 2001.
Not only was your choice of repertoire enjoyable but the way you seemed to wrap the audience in an entertaining fashion is commendable.
We hope we may call upon you again for one of our future series ."
Karen Renolds Dilks, general manager, Hillside Sedona Mall writes in August 2001:


"I just wanted to take a moment to thank you for a brilliant performance last Saturday night. Wow! What a performance. I've had people calling me and thanking Hillside for such an enjoyable evening.
Your repertoire was perfect with a combination of Broadway tunes, a flair of Las Vegas, and of course my absolute favorite Motown. The only disapointment to the evening - is when the evening had to end. I could have you sing all night long. My thanks again for a great performance.
I hope to have you back again for future special events."
CONTACT
JOE BOURNE MUSIC, ART AND ENTERTAINMENT PRODUCTIONS
TUCSON, ARIZONA - USA
TEL. 1 - 520 - 877 - 8446
EMAIL: joebourne@comcast.net