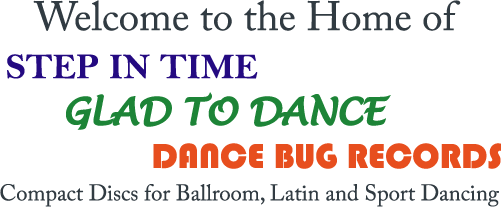 In the past few years, Ballroom Dancing has become a very popular form of entertainment as well as a great form of exercise and sport for people of all ages.
Modern Ballroom Dancing has progressed to the point that it has been able to achieve international prominence in a short space of time to the point that it is being seriously considered as an Olympic sport.
Our labels,

Step In Time

,

Glad to Dance

and

Dance Bug Records

presents an exciting series of high quality Ballroom and Latin Dance CDs.
The Step In Time Orchestra

features, the singer/entertainer, Joe Bourne together with other very talented vocal and instrumental artist.
With it's contemporary and traditional repertoire, these functional and unique series presented on our 3 labels spotlights well known artist and composers and is used on a broad scale worldwide.
We invite, amateurs, professionals, teachers, studios, clubs, hotels, restaurants, DJs, health and fitness promoters, the social, recreational and competitive dancer, youth and seniors to come STEP IN TIME to this superb collection .
LIVE MUSIC PERFORMANCE
Joe Bourne is available for a live performance with his orchestra /big band /or backing tape for your Dance event.
Send e mail for booking information and price.
The Best of Step in Time



All Latin styles and Waltz tempos!
22 Songs



Having a Ball in the Room



All tempo foxtrots, Waltz, Tango
16 Songs



Latin Soul i Tude





All Latin Dances 18 songs




Dancing Around The Flowers





16 dances about flowers





A Dance For Christmas





15 Christmas classics for Dancing




CONTACT
JOE BOURNE MUSIC, ART AND ENTERTAINMENT PRODUCTIONS
TUCSON, ARIZONA - USA
TEL. 1 - 520 - 877 - 8446
EMAIL: joebourne@comcast.net