WELCOME TO
"HOME SWEET HOME"
A 12 Song Compact Disc with a House and Home Theme
A New and Unique Closing or Marketing Gift!
Developed for REALTORS®
This musical gift with different styles and genres of music is designed to appeal to a broad audience.
The "Home Sweet Home" CD and Thank You Gift Pack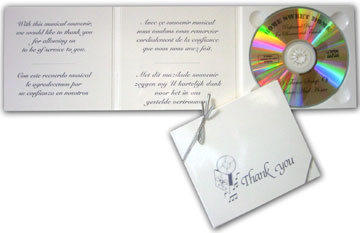 The CD, "Home Sweet Home" is performed by Joe Bourne and Friends and is packaged in a deluxe white carton gift pack with "Thank you" printed on the front. On the inside, a "thank you text" is printed in four languages, English, Spanish, French and Dutch. The CD and Thank You gift pack is delivered with a silver elastic tie to make a complete ready-to-give gift.
Listed below are 10 excerpts of the 12 songs that appear on the "Home Sweet Home" CD. Click song title to play.
MP3 Samples - Home Sweet Home

Home Sweet Home
Owner of a New Home
Home is Where the Heart Is
It Must Be Love
It's My House
Home is Like a Castle
Coming Home
The Old House
This House of Mine
You Make This House a Home
Bring it on Home
Prices: Price for the "Home Sweet Home" CD with Thank you gift pack is as follows:
5 units - 10 units $14.50 per unit
11 units - 25 units $13.50 per unit
26 units - 50 units $12.50 per unit
Add 8.1% sale tax for deliveries made in Arizona, USA
Price on request for quantities over 50 units
When more than one person from the same Realty office places an order at the same time, the above quantity discounts will apply.
Optional extra printing: Your name and/or company logo may be printed (in black) on the CD label
Price = a one time "setup charge" of $15.00
Price on request for extra printing on the CD gift pack
Terms of payment and delivery:
All orders must be prepaid via cash, check, fax check or money order.
We do not accept credit cards at this time.
All orders are excluding the cost of postage/shipping.
All prices are excluding the local and state sales tax. (in Arizona)
For more information, or samples, please contact:
Joe Bourne Music, Art and Entertainment Productions
Oro Valley, Arizona
Tel/fax: 520-877-8446
Email: Joebourne@comcast.net
Cell: 520-979-2823
To place an order by mail, click here.

The "Home Sweet Home" CD is not available in your local retail stores!